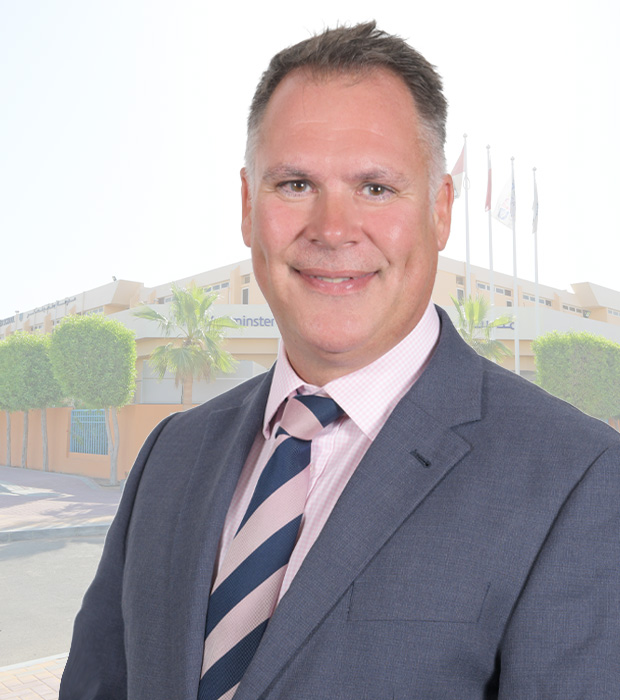 Welcome message from the Executive Principal / CEO
Mr. Carl Roberts
At The Westminster School we believe in supporting every individual to achieve his or her dreams, no matter how big they may be. Our students are ambitious, inquisitive and hardworking, ever embracing challenges and striving for their best. We recognise that all children have different abilities and talents, and we are committed to helping them discover and develop these in a nurturing environment. Inclusion is an important part of life at TWS.
The Westminster School has a long history of providing an exceptional education for young people and this is down to our teachers, students and support staff. Our students achieve excellent examination results and at the same time develop into well-rounded young adults who have the skills, attributes and moral fibre to lead successful lives. We believe that an education should stretch young people academically and also develop them socially, all the while supporting them emotionally and ensuring their health, safety and happiness.
We provide a quality academic education based on the rigorous National Curriculum for England enhanced with an international flavour. Our curriculum is designed to be broad and balanced to keep opportunities open while giving excellent preparation for further study, and a large proportion of our students go on to study at universities both locally and globally. All students study the core subjects of English, Mathematics, Science, Arabic, Islamic, Social Studies and Moral Education, supplemented with programmes in humanities, languages, the arts, sports and technology. Students also have every opportunity to be fully engaged with our diverse extra-curricular programme.
As a GEMS Education school, we pride ourselves on delivering a values-driven international education, expressed through four core values – leading through innovation, pursuing excellence, growing by learning, and global citizenship. These are woven into each of our academic and extra-curricular activities and form the basis of everything we do.
Accordingly, through our formal and informal curriculum, we encourage creative and critical thinking alongside stimulating and meaningful experiences. Integrated into our learning is the development of a range of key skills, attributes and attitudes that we know will serve our students well in their later lives. The development of leadership skills is an important part of our curriculum, and all students have the chance to be involved in school leadership activities.
The Westminster School is an international community with over 70 nationalities, and we firmly believe in developing our students into global citizens who can excel on the world stage. To do this, we provide a range of opportunities to celebrate and embrace cultural differences while understanding and respecting the importance of Islamic values in our society. We aim to develop a tolerant school community, reflecting the heritage of our students and recognising that we all come from different backgrounds.
As Principal of The Westminster School and as a parent myself, I believe in raising children to be polite, respectful and responsible citizens, able to make a positive contribution to society. Of equal importance is children's social and emotional development, enabling them to become confident, assured and happy. I believe in building a community based on traditional values and mutual respect, where students take pride in themselves, their work and their school, contributing fully on a daily basis to the benefit of all.
If you are considering The Westminster School for your child, I warmly encourage you to visit us and experience first-hand our unique environment and culture. We welcome visitors throughout the year, so please don't hesitate to get in touch and make an appointment.
Carl Roberts
Executive Principal and CEO