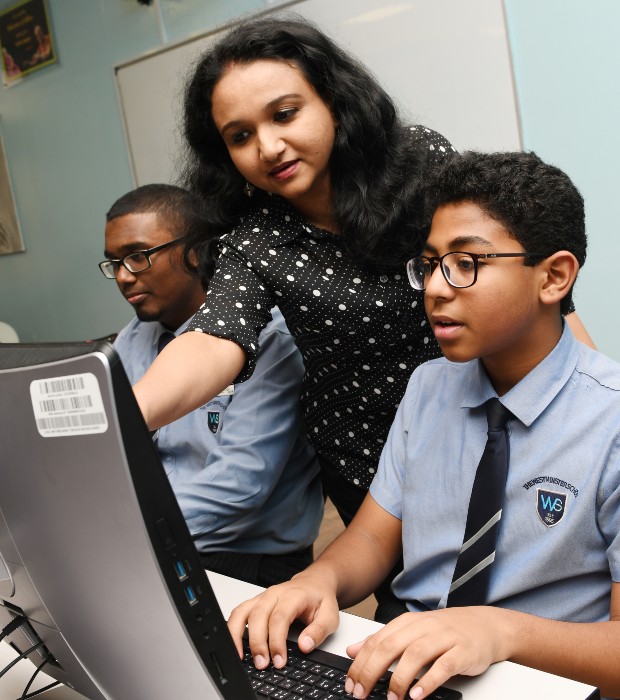 Career Counselling
Career, Education and Guidance
The Westminster School aims to furnish students with a robust foundation by providing adequate guidance as they encounter the transition from youth to active individuals of the wider society.
Successful transitions – whether from lower secondary to upper secondary; at age 16; into work-based training or university; are life-enhancing for every student. We believe that each transition should be smooth and enriching for students as these could substantially aid their decision-making towards higher education goals. It is also worthwhile to mention that GEMS is now supporting students through GEMS UNICONNECT and MPTU (My pathway to University).
Career Guidance programs at The Westminster School help students set pertinent goals and take appropriate decisions related to their desired careers. Our focus is to guide students right from secondary school and suitably equip them with information regarding various career fields and future life opportunities. The school supports the students in the below-mentioned areas:
Individual Counselling - One-to-one sessions are offered by the counsellor to help students in devising and implementing their career plans as well as enhancing a greater sense of self-awareness relevant to the career development process. In-house Support for students is assisted in their application for UCAS and Common Application.
Career Workshops - Individual sessions are conducted for different year levels and different subject groups by the university representatives, discussing the range of courses and their requirements. The consultants from GEMS UNICONNECT come and share information about eligibility criteria, entrance exams, expenditure, and time of application to students as well. Throughout the academic year, a range of interactive workshops are held to equip students with the required skills in preparation for higher education.
University Visits - Field trips to universities are arranged for students to give them insights regarding university life and campuses. Students also participate in a variety of competitions organized by universities.
Career Fairs - Universities and education consultants across UAE, as well as universities from the USA, Australia, Germany, and China to name a few, have participated in these events. Students, parents, and teachers also get an opportunity to meet, interact and extract information about different courses globally. They also aim to increase students' awareness about the preparation required for university applications and international universities within and outside the UAE.
These days, there is a lot more to a university education than obtaining a world class qualification alone. Here's how we prepare our students for university and the world of work:
Development of employability skills: It's not just a degree employer look for. A GEMS student gains self-confidence, communication, initiative, teamwork and time management skills.
Interest and experience in their future study courses: Have a look at how we prepare our Alumni for their university courses before they leave school.
Improved career prospects: A higher education is a gateway to jobs in the future. Many organisations around the world employ GEMS Alumni. With tens of thousands of contacts all over the world, your child will find a connection wherever their career takes them.
Development of personal and social skills: GEMS Core Values have been part of our DNA for over 55 years. With a GEMS education, your child will not just become a conscientious student, they'll also gain the confidence and independence to thrive at home, university and at work.
Whether we are lucky enough to teach your child for a few years or many more, the lessons they learn at GEMS will remain with them for the rest of their lives.