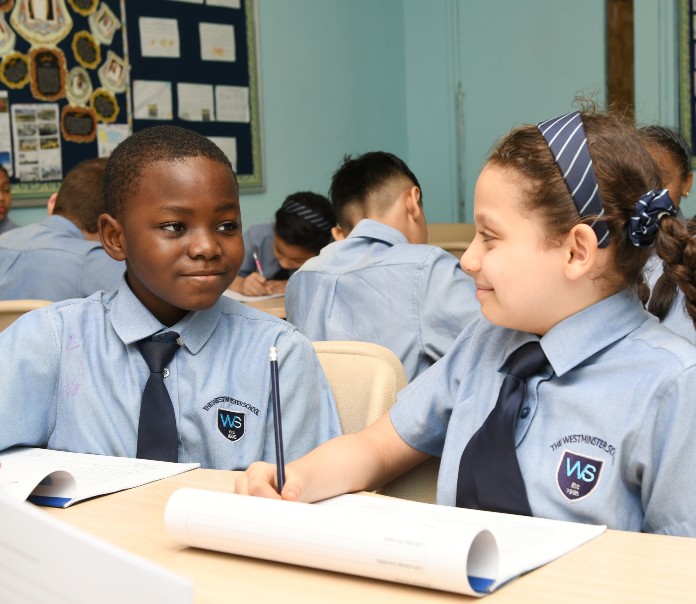 Primary School
Key Stage 1 (Year 1 and Year 2) and Key Stage 2 (Year 3 to Year 6)
Ages: 5 years old to 11 years old
In these years of school, students lay a solid foundation for learning that they will use for the rest of their lives. The National Curriculum for England has a very structured flow of learning that challenges and assesses students to ensure development in key academic areas is being met. Integration of coding and theme/project based learning into the curriculum supports students in correlating different areas of learning in a constructive manner to develop lifelong skills of collaboration, real life application, creative problem solving and decision making.
Subjects at this level
Islamic Education (in Arabic and in English)
Arabic for Arabs
Arabic for Non-Arabs
English

Mathematics

Science


Moral Social Cultural Studies

(Year 2 onwards)



Geography

Personal, Social, Health and Economic Education

Computing

Physical Education

Art
Music


French/Urdu (Year 3 onwards)

Achieving full potential
Offering a world-class education founded on an elaborated National Curriculum for England (NCfE).Within the Primary School, academics is integrated with opportunities to enable children to achieve their full potential and develop skills of reasoning, problem-solving and creative thinking. Learning ensures that all of our students are enthused by what they are learning, and our teachers are passionate about what they are teaching. Students pursue academic and non-academic prospects through various activities. Socially preferred behaviour patterns are inculcated through a focus on etiquette and values that will lay the foundation for students' social interaction and development.
Key stage 2 students are provided with the opportunities to develop their leadership skills by sharing class and school responsibilities that nurture organisational skills, accountability and team spirit.
The Primary School is the stage of enhanced learning, where the students are constantly evolving and growing, intellectually and emotionally.
Students in Key Stage 1 and Key Stage 2 are prepared well for the UAE International Benchmark assessments as prescribed by the KHDA.