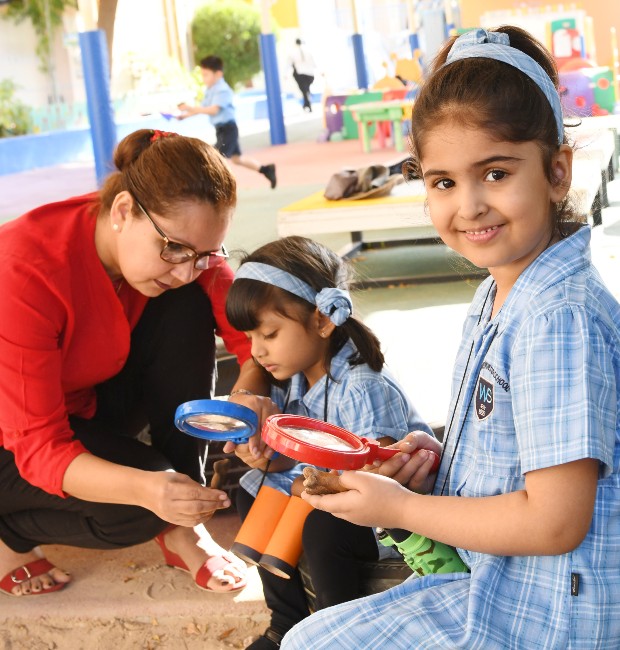 Admissions Process
How to begin your child's journey
The Admissions Policy of The Westminster School, Dubai comprises of Basis of Admission, Eligibility Requirements (Age, Assessments for FS1, FS2 and Years 1-11, Admissions Process and the Documents required at the time of Admission) to give you an overview on Admissions.
The School
We are an International school that belongs to the well-established Global Education Management Systems (GEMS), pioneers in the field of education in the UAE.
The Westminster School follows the National Curriculum for England from Foundation Stage 1 to Year 13 and prepares students to take the International General Certificate of Secondary Education (IGCSE), Advanced Subsidiary (AS) and A Level Examinations of the Universities of Cambridge and Oxford (UK).
Who We Serve
The Westminster School serves the educational needs of the local and international community in Dubai and the surrounding emirates of Sharjah, Ajman and Umm Al Quwain, in particular the children of foreign nationals here on employment for whom the local UAE education system is not a viable option.
We have approximately 5200 students on our rolls and we currently have 70 nationalities. We are proud of our diverse cultural mix and the truly international flavour this brings to our school. We are a non-sectarian, co-educational institution and welcome boys and girls of all nationalities, religions and cultures.
We provide high quality education to all the children who attend the school. The school has high expectations of effort and success from all children. We believe that our children, including those identified as having additional needs, have a common entitlement to a broad and balanced academic and social curriculum.
School Information
Prospective students and parents should be familiar with the school's program and facilities. A broad outline on the school is available on the school website. The school's registration office may be contacted for detailed information and guidelines for admission. School tours are arranged on prior appointments by the admission staff.
Schedule
The school year begins in early September and is divided into three terms, the first of which ends in late December, the second in April and the third in June.
Because of the size and popularity of the school student enrollments are done quite early, beginning in November with FS1 and FS2. We have two streams in our admissions process: one for the siblings of the students already enrolled in school and the second for those new entrants who wish to join from other schools. Places fill very quickly and it is common for all places to be taken within a week of enrollments starting. The school has a waiting list with places allocated using fair and published criteria.
Basis of Admission
Admission is broadly based on a review of the students' records of past performance, age, acceptable performance on the school's screening assessments and class numbers.
Admission to all classes is also governed by a set of guidelines from the Knowledge and Human Development Authority (KHDA), UAE. Documents of each student are verified by the officials every academic session to ensure compliance with the guidelines.
Where there is a high demand for available seats, places will be offered in the following order of priority: Emirati National students, staff children who are working at the school, students who have siblings attending the same school, students from other GEMS schools in the UAE including students from GEMS Nurseries for FS2 and Year 1 and students from other GEMS schools globally. Other students are allocated according to the date and time of Online Registration. When there is no seat available in the requested year level, an applicant is placed on the waitlist.
We recognize the importance of identification as early as possible, followed by intervention for any child who may have special education needs. Identification is carried out based on the 3 levels.
Eligibility Requirement
Age
Age is the first criteria taken into consideration for the placement of students at any year level. This is in accordance with the legislation governing the enrolments of students in private schools in Dubai. Exceptions are possible, where the child would be in a different year group in a school in the United Kingdom but only after careful evaluation has been made by the school and approved by the Executive Principal/CEO.
When you get in touch, make sure you let us know your child's date of birth so we can accurately advise you of our admissions procedures for the various classes.
Assessments
English is the language of instruction in all grades, and the ability to successfully access the curriculum within a reasonable time is the guiding principle for admission to the school. Hence the assessment of English becomes essential.
In the younger grades, a start in the English language curriculum is usually sufficient for children to quickly develop proficient English language skills. On this basis, children may be admitted to our Foundation Stage 1 and 2 (ages 3-5) regardless of their level of English proficiency. However, parents of children applying for older years are advised that basic competence in English is generally required in order to successfully benefit from the academic programme. At the high school level (Years 9 - 13), a relatively high degree of competency in English and Mathematics is expected.
Registration and admission for the Academic Year starting September is done online through the school website (www.gemsws-ghusais.com). Admissions to classes depend upon vacancies in those classes. There will be an entrance assessment prior to accepting the student.
Foundation Stage 1 (FS 1)
For admission to Foundation Stage 1, the child must be of maximum 3 years old as on 31st August 2023.
Interview procedures:
Applicants of FS1 will normally undergo two stages:
First Stage: Group Activities
The First Stage is a group activity where applicants will be assessed in the learning environment for their development of logical thinking, cognitive development (development of their senses), motor skills, creativity, and behaviour of each applicant via activities.
Second Stage: Individual Interview.
If the applicant meets the criteria for the First Stage, then the applicant will be selected for the second stage.
In the Second Stage, both the parents and applicant will be invited/interviewed. The school will select the applicant based on the following criteria:
Applicant's Performance at interview: language and cognitive abilities; social and communication skills; willingness to ask questions; care and concern about others. The candidate should be able to understand and respond to simple instructions.
Parents' Performance at interview: support on school's vision and mission; appreciation of new ideas and innovation; adequate parental support to the child, and strong commitment to the TWS and home-school cooperation.
Admission will be subject to whether the applicant is toilet trained and is able to follow simple instructions in English.
Foundation Stage 2 (FS 2)
For admission to Foundation Stage 2, the child must be of maximum 4 years old as on 31st August 2023.
The child must be enrolled in a Nursery for at least 6 months to 1 year or completed FS 1 in a school. This is applicable to all children on the waiting list.
The child must be toilet trained.
Parents are requested to present any work done by the child while in Nursery/FS 1. This should be brought along at the time of the interview.
Year 1: The child must be 5 years old as on 31st August 2023.
A separate Age Placement guide is given on the website for your understanding.
Years 1-10
Year 1: The child must be of maximum 5 years old as on 31st August 2023.
Admission is granted on the basis of entrance assessments in English and Mathematics. Admissions in these Years also require an interview with a member of the Senior Leadership Team or Key Stage Leaders.
Year 12 - AS Level & Year 13 - A Level
Admission to Years 12 and 13 is competitive and is based upon performance in Board Examinations (IGCSE and AS Levels). Preference is given to the existing students of the school who are outstanding performers at the IGCSE Level Examinations. Students from other schools are only considered after TWS students have been offered a place. The minimum requirement for entry into Year 12 is five grade Bs at IGCSE with grade Bs or above in the AS Level subjects chosen.
New students must settle the registration and admission fee and the relevant term's tuition fee, before enrolling for the student to start classes.
For External students - Kindly register your interest in attending the Westminster School in Dubai for AS level in the academic year 2023-2024. Please be advised that due to a high number of students transitioning to Year 12, your application will be placed on the waitlist. For the most up-to-date admission information, please visit the school website when the board examination results are announced in August 2024.
Required Documents
• Passport – Both parents and child
• Residency visa page – Both parents and child
• Emirates ID card back and front – Both parents and child
• Child's birth certificate (in English or Arabic)
• Recent passport size photograph of the child
• Last 2 years school reports for all children entering Year 2 and above (in English).
• CAT 4 report for children entering Year 3 and above coming from Dubai or another GEMS School in any Emirates. Nursery report cards, if available, for children entering FS1, FS2 and Year 1. Six months validity medical therapy report if the child has special educational needs or is a child of determination.
• Child's immunization/vaccination report.
Transfer Certificate Guidelines
• Transfer from schools within Dubai – KHDA attested Transfer Certificate must be submitted
• In the case of transfer from other Emirates and GCC Country, the Transfer Certificate should be duly attested by the Ministry of Education.
• In the case of overseas transfer, from countries except USA, UK, Australia, Canada, Europe and New Zealand, the Transfer Certificate should be duly attested by:
• District Educational Officer/Ministry of Education (from the country migrating from)
• Ministry of Foreign Affairs (from the country migrating from) and Ministry of Foreign Affairs UAE.
• UAE Embassy/ Consulate (from the country migrating from)
Please note: The Westminster School, Dubai will accept and consider applications with all required documents. All outstanding documents must be provided within ONE month of admission to the school. Admission will be confirmed only on the submission of all the documents to the School and will be subject to Knowledge and Human Development Authority (KHDA) approval.
Curriculum Criteria
If your child is currently attending IB/American/Indian/SABIS curriculum school which is up to Grade 12, then please complete the enquiry for a Year above the current Grade. For example- If your child is currently in Grade 2 then your enquiry should be for Year 4 next September.
Student Registration
Welcome to the GEMS Online Student Registration facility.
Admissions for the Academic Year 2023-2024:
(A) Procedure when Online link is open for admission in the future:
While filling up the application form online, kindly enter all required fields. Once you have successfully completed and submitted the online enquiry form, you will receive the Opportunity Number. Please keep the Reference Number for your future records.
You can submit documents online at this stage of Online Registration.
Once you have submitted the necessary information, a member of our enrolment team will get in touch with you to proceed with your child's enrolment.
A student's application will pass through different stages facilitated by effective communication between parents and Westminster School's Admission team
The online enquiry does not automatically guarantee school admission and if previous year's admissions are a guide, demand for places is expected to be extremely high.
Download Links
Please note: The Westminster School, Dubai will accept and consider applications with all required documents. All outstanding documents must be provided within ONE month of admission to the school. Admission will be confirmed only on the submission of all the documents to the School and will be subject to Knowledge and Human Development Authority (KHDA) approval.
Re- Registration Deposit
For Existing Students
This deposit is payable at the time of Re-enrolment to guarantee a place for the following academic year. The Re-registration deposit is 5% of the total tuition fees and is deductible from the total tuition fees for the academic year. Please note, this is a non-refundable deposit. Full term 1 fees must then be paid before the start of term to complete the admission process. Non payment of fees before the start of term will result in de-enrolment.
Transfer Certificate Process
Parents requesting Transfer Certificates who are transferring outside Dubai (Abroad) /within Dubai/any other emirates, please see the process below:
Parents request a Transfer Certificate (TC) via their parent portal, advising school to issue a transfer Certificate.
Parents must then pay AED 120/- online (KHDA Payment) to the school for the TC to be attested (All TC's processed must now be attested).
For those students completing Year 11, 12 and 13 the certificates will be ready for collection at the end of August or beginning of September once they have received their IGCSE/AS/A Level results and the results have been verified by the KHDA.
Please allow a minimum of 30 days between applying for a transfer certificate, and the last date of attendance, in order for us to ensure the attestation process is completed by the time you leave.