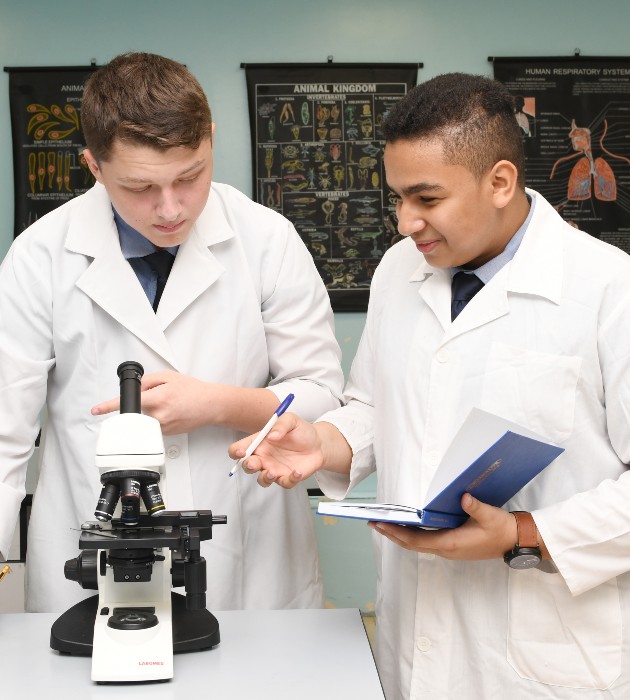 Secondary School
Key Stage 3 (Year 7 and Year 9) and Key Stage 4 (Year 10 to Year 11)
The Secondary School covers the ages of 11-16, and is split into two distinct stages, Keys Stage 3 (ages 11-13) and Key Stage 4 (ages 14-16).
Key Stage 3
The Years 7 and 8 curricula integrating IMYC inspire students and meet the unique needs of their teenage brains during a time when many, overwhelmed by the combination of the transition from the primary to secondary education.
At this stage, the learning goals seek to encourage the holistic development of internationally-minded learners. Rigorous and deep learning is represented under the categories of knowledge, skills and understanding through enquiry, research and problem solving learning.
Opportunities to experience and practice individual qualities and dispositions like resilience, morality, communications, thoughtfulness, respect and adaptability are built in the learning tasks within the curriculum.
Subjects at this level
| | | |
| --- | --- | --- |
| Islamic Education (in Arabic and in English) | Arabic for Arabs | Arabic for Non-Arabs |
| English | Mathematics | Science |
| UAE Social Studies | Moral Education | Geography |
| History | Life Skills | Computer Science |
| French/ Urdu | Physical Education (PE) | Art |
| Music | | |
Key Stage 4
Key Stage 4 prepares students for the IGSCE Examination. In Year 9, the students do a Pre IGCSE programme where they explore a broader variety of subjects before they make an informed choice of subjects for IGCSE. Years 10 and 11 students study IGCSE subjects as per their choice made at the end of year 9. Assessment in Key Stage 4 is carried out according to a point scale system of the IGCSE, from grades A to G.
Skills learned at Key Stages 1, 2, & 3 are brought into sharp focus as the student enters this level. Our students are inspired to learn through a range of interesting skills. Independent thinking, research, and resource collection and effective communication are the essential skills focused on at this level.
Opportunities for individual experiences are encouraged as they communicate and actively participate in the world around them; these include work experience, university seminars and workshops, and other relevant activities that we feel will add value to student development and preparation.
Core subjects at this stage consist of:

English
Mathematics
Arabic (for Arabic students)
Arabic (for Non-Arabic students - till end of Year 10)
Islamic Education (for Muslim students)
Computer Science or Information Communication Technology
Physical Education
Moral Education

Furthering our commitment to individual student-development, we offer a variety of elective subjects for students to select from when designing their curriculum. These electives include:

Biology
Chemistry
Physics
Combined Science (Double Award)
Economics
Business Studies
Accounting
Travel and Tourism
Enterprise
Psychology
Global Perspectives
Environmental Management
Physical Education
Computer Science
ICT
Geography
French
Urdu
Combined Science
Art and Design

We offer a range of skills to develop through our skills development programme in Year 9 and 10. They students can choose any one skills from the list given below:

3D Printing
Public Speaking
Physical Health
Debate
Music
Art Skills
Chess
Global Futures Curriculum (GFC)