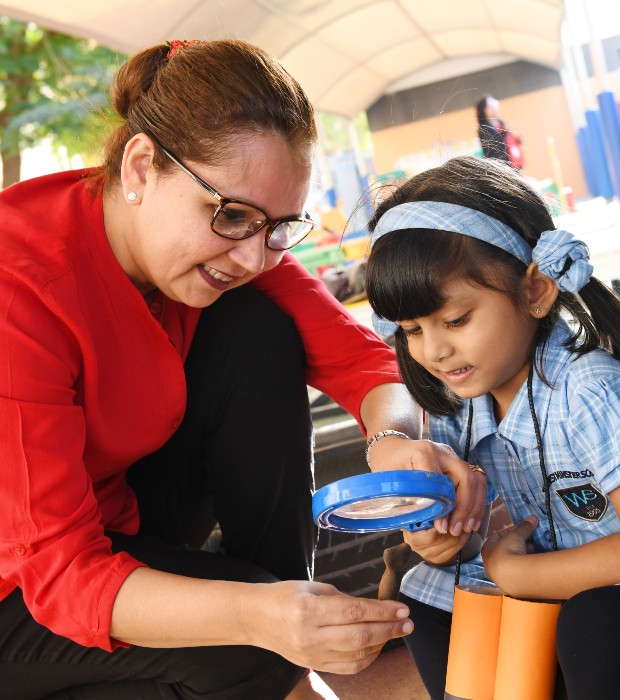 Curriculum Overview
Offering a world-class education founded on an elaborated National Curriculum for England (NCfE)
The Westminster School, Dubai has designed its curriculum to empower the learners and create their future. Primarily, we offer the National Curriculum for England; however, we also incorporate the goals and values of GEMS Education and the rich national influence of the UAE. This results in students being offered a modern, exciting, and educationally advanced curriculum. a vibrant & creative learning environment.
Core Curriculum: National Curriculum for England
Language of Instruction: English
The National Curriculum for England is a broad and balanced curriculum applied in over 150 countries across the world. It is based on a structured and broad framework that outlines expected levels of achievement through all stages of a student's school life.
In Foundation Stage 1 and 2 students, follow the Early Years Foundation Stage program.
In Years 1 to 8, the students progress through the National Curriculum for England. Integration of STEAM, coding into the curriculum, International Early Years Curriculum(IEYC), International Primary Curriculum (IPC), and International Middle Years Curriculum (IMYC) is an intrinsic feature of learning across the school from FS 1 to Year 8.
In Year 9, the students do a Pre IGCSE programme where they explore a broader variety of subjects before they make an informed choice of subjects for IGCSE.
Years 10 and 11 students study IGCSE subjects, Years 12 and 13 AS and A level subjects.
Laying the foundation
The curriculum lays the foundation for students to pursue university levels of education or professional career paths suited to their abilities, talents and interests. All IGCSE, AS and A level qualification awards are recognized worldwide. The Westminster School students move on to higher education across the world, many to prestigious universities.
In addition to the development of specific skills and competencies, the curriculum emphasizes innovation, enquiry, creativity, analytical evaluation, and other 21st century skills needed to meet the challenges of the future.
Through innovative styles of teaching, workshops, projects and experiments students are given the opportunity to explore aspects of the curriculum and develop a variety of practical skills. Under the guidance of their teachers, students learn aspects of management, instruction and leadership, enhancing their knowledge, confidence and skills, so that they can make more defined career choices.